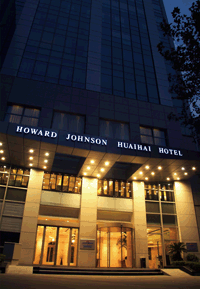 Go anywhere. Stay here. SM 无 论 走 到 哪 里,都 将 留 恋 这 里。
Howard Johnson International (China) is a hotel group with 81 years of illustrious history. There are more than 500 hotels distributed throughout 34 countries within the current system. 豪生国际酒店集团至今已有81年的历史,是一家拥有世界多家连锁酒店网的酒店管理集团公司,逾500家酒店遍及全球34个国家。
Howard Johnson has a proud heritage. It is a heritage that has one concept woven through all aspects of operations - Quality. This is the commitment that the brand was founded upon 81 years ago, and it is the commitment we live by today as we provide guests with A Better Quality of Life on the Road. 豪生品牌是值得骄傲的品牌,其光辉的理念是在酒店管理的过程中处处体现质量的重要性,这也是豪生品牌81年前创建的坚实基础。我们一贯遵循的准则和努力实现的目标就是为我们的客人在旅途中提供更好的生活质量。
Howard Johnson Huaihai Hotel Shanghai is located on HuaiHai Road, this 168-room hotel is invested by CTYS Group., and managed by Howard Johnson International (China). 上海淮海国际豪生酒店位于淮海路商业区,这家168间客房的酒店由中青旅集团投资兴建,由豪生国际酒店集团负责管理。
Howard Johnson HuaiHai Hotel Shanghai is now inviting highly motivated and energetic personnel for our newly opened hotel: 酒店已于2007年12月开业,上海淮海国际豪生酒店诚邀业内精英加盟。
If you are looking to grow your career with a leading international hotel and have the skills and energy needed to be part of our team for the key position vacancies, with competitive benefits, good training and development opportunities. Please apply with full resume (English&Chinese) with a recent photo, present and expected salary to Human Resources Department via e-mail: hr_hojo@126.com. 若您想使您的事业得到进一步的发展,并且具备了一定的职业素质加入到我们的团队中的主要职位中,我们将提供有竞争力的福利、良好的培训及发展机会。请将您的中英文简历、近照、目前和期待的薪金要求一并发往酒店人力资源部邮箱:hr_hojo@126.com.
Equal opportunities are extended to all candidates and the information provided will be used for the consideration of your application in the hotel. All personal data collected will be for recruitment purposes only, and will be kept private and confidential. If you do not hear from us within four weeks of your application, you may consider your application unsuccessful at which time your personal data will be deleted accordingly. 我们为每位应聘者提供平等的机会,提供的信息只作酒店招聘用途,并将以机密件保管。如果您在发出申请后四周内仍未得到我们的答复,这表明应聘失败,届时我们也将删除您提供的所有信息。business as pleasurable stay.