Brief introduction Gourmet Services (Shanghai) Limited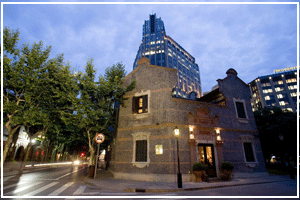 Gourmet Service Limited was formally incorporated in Shanghai in December 2006 to invest in and operate a fine dining French Restaurant known as LE PLATANE, international restaurant FOUNTAIN, and top classical Chinese restaurant VILLA DU LAC at Xintiandi.
We aim to serve our clients exquisite gourmet cuisine with the immaculate service in a restaurant with warm ambience. We aim to expand our Company to operate fine eateries when other opportunity presents itself.
LPGS mission and strategy statement.
Our mission is to build and develop restaurants in China serving good tasting French cuisine to all strata of the population. Beginning with the finest restaurant at the top, our strategy is to educate the local palate to enjoy the 'French taste' and serve the mass market through a chain of restaurant serving 'comfort food'
Organization Structure.
Le Platane Gourmet Services (Shanghai) Limited has two divisions;
Restaurant division and Administration division. Restaurant has Le Platane and Brasserie both further divided to front of house and kitchen. Administration comprises, Human Resource, Finance, Logistics and Marketing functions.
金堡餐饮(上海)有限公司的简要介绍
金堡餐饮(上海)有限公司于2006年12月正式投资组建,旗下的Le Platane (梧桐)餐厅为经营法式餐饮的餐厅,无国界料理丰泉,顶级中餐湖庭都坐落在上海餐饮黄金地段:新天地。我们会以精妙的食家烹调、洁净的服务、以及温馨的气氛来服务客人。 如果有发展的空间,我们打算扩大公司规模,建立更好的餐馆。
公司的使命和发展策略。
我们的使命宣言是:建立和开发餐厅,使中国所有消费层的顾客都能享受法国的烹调和服务。金堡餐饮公司以最好的餐厅为起点,通过一系列的优质服务,逐步让当地的人普及和接受`法式口味'和一流的餐厅服务。

公司的组织结构。
金堡餐饮(上海)有限公司分为餐厅和行政管理两大分支。 餐厅的Le Platane 和Brasserie 都由前厅服务和厨房组成。行政 管理部门包括:人力资源、财务、采购和市场部门。
联系方式:
联系人:人力资源部Polly

电话:021-53836060-106

地址:上海市普安路189号7楼D座

邮政编码:200021